Children's feet – Children's shoes
plus12MED: So that shoes fit!
plus12med: So that shoes fit!
Shoes that are too short can damage feet. If the sensitivity in the feet is disturbed (e.g. with diabetes), a health chain reaction can result:
Lesions -> delayed wound healing -> difficult therapies
Measure feet with the plus12med
The plus12med automatically adds 12 mm to the foot length when measuring feet. That is the minimum margin for suitable shoes.
Example: A value of 250 mm means that the foot is 238 mm long and requires shoes with an inner length of 250 mm.
Shoes measure with the plus12med
The plus12med works like a ruler.
Example: A value of 250 mm means that the shoe has an inner length of 250 mm.
Length isn't everything
It can happen that shoes are long enough in terms of the inside length, but do not fit around the ball of the foot and the heel. Tip: The only thing that helps is to switch to another model. Shoes are mass-produced and not every shoe fits every foot.
The problem with shoe sizes
Shoe sizes are not standardized and are therefore rarely correct. Our research shows that around 90% of shoe sizes are wrong and that the inside of the shoes is almost always much shorter than it should be.
Example: If your shoe says size 42 and the measurement with the plus12med only shows size 40, then that is – unfortunately – completely normal.
To check: Check the shoe size with the plus12med or make a cardboard strip of the appropriate length. 1 EU shoe size is 6.67 mm. An EU size 42 shoe should therefore have an inner length of 280 mm (42 x 6.67 = 280 mm).
1 UK shoe size is 1/3 inch (8.46mm). So a UK size 8 shoe should have an inside length of 11 inches (279.4 mm)
Tip: When measuring feet and shoes, use the millimeter scale as a guide and only use the shoe size scale to look at the craftsmanship of shoe manufacturers in amazement …
My shoes fit!
In an exciting series of tests, we were able to prove that children are usually absolutely convinced that they are wearing suitable shoes. Even if the shoes are much too short. It's similar for adults: if you always wear shoes that are too short, it feels completely normal. And so most adults believe that their shoes fit perfectly.
Take the test: Either with the plus12med or you can make a cardboard strip that is 12 mm longer than your foot and insert the strip into the Shoe. If the strip bends up, the shoe is too short.
From children's shoes to adult shoes
The fascination for the fit of shoes began around 2001. Our research group received the research project from the Austrian Federal Ministry: "Do Austria's children wear suitable shoes"?
The results were surprising:
69% of the children wore street shoes that were too short and 88% too short slippers.
Only 3% of children's shoes had the correct inner length. For example, where it said size 30, there was only size 29, 28, 27, and occasionally only 26 "inside".
For the first time we were able to scientifically prove that children's shoes that are too short lead to foot damage (see publication:

biomed_artikel.pdf).
In 2004 we brought the plus12 onto the market: the first shoe size and brand-independent measuring device for children's feet and the inner length of children's shoes. With the plus12, we have also started to organize children's foot measurement days – mostly in cooperation with health institutions (e.g. health insurance companies). It was shown again and again: Far too many children wear shoes that are far too short. During these days of action, parents often ask us if we could also measure their shoes. And strangely enough, even adults often wear shoes that are too short.
We were more interested in that and in projects in Finland and Great Britain, we were made aware of the particular shoe problems of diabetics: a combination of reduced sensitivity and circulatory disorders can lead to problematic wounds.
This gave rise to the idea of plus12med plus12med: A practical measuring device so that adults – especially diabetics – wear suitable shoes!
1. Measure feet
Stand on the plus12med and measure both feet.
The plus12med automatically adds 12 mm to this (a value of 250 mm means that the foot is 238 mm long and requires shoes with an inner length of 250 mm). Note the millimeter value of the longer foot.
2. Measure the inside length of the shoe
Put plus12med in the shoe and extend it.
Note millimeter work*.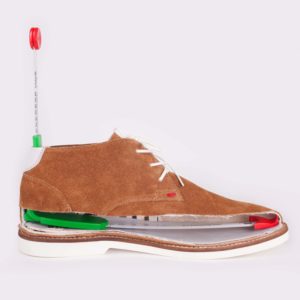 3. Does the shoe fit?
If both values are the same, the shoe fits (e.g. foot = 250 mm, shoe = 250 mm).
* minor deviations are possible!